News & Insight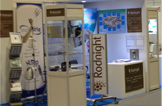 Training day at Medihosp in Johannesberg
DATE: 4.05.2016
During a full day sales meeting at Medihosp in Johannesberg, Martin Rodnight,  Managing Director of the Rodnight Partnership was able to carry out sales  training on a number of specialist infection control products. Parflex hospital  screens from Turkey, and the Sleep Angel pillows from Ireland were greeted with  great interest by the team, as well as a new range of warming cabinets for the  Operating Room from Em Med in Poland.
At the same time the meeting was joined by Tony Abboud, Sales Director of  Surface Medical, manufacturers of the CleanPatch mattress repair patch. Tony  was able to meet the team and thank them personally for their record sales in  South Africa, to date the largest export market for Surface medical.
Commenting on the day, Catherine McMillan of Medihosp said:  "It was fantastic  to have both these guys here, all the way from Canada and the UK. This was a  superb opportunity to give the team some hands on training, as well as to thank  them for their efforts. We are now well positioned to go out and get sales for all  of these products".
PREVIOUS POST
NEXT POST