News & Insight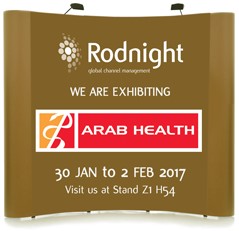 Arab Health 2017
DATE: 6.12.2016
The team at The Rodnight Partnership are delighted to announce that we have taken a stand at next year's Arab Health exhibition, from the 30th January to the 2nd February. Amongst the clients who will be represented on the stand are Physicool, Prima Medical, ASep Healthcare and Harvest Healthcare.
Physicool supply innovative cooling products based on rapid evaporation. The medically formulated Coolant is used globally throughout hospitals, physiotherapy practices, sport arenas and at home. The versatile Physicool Cooling Bandage has proved to greatly reduce swelling and inflammation, reducing pain whilst helping speed up the recovery process, getting people back up on their feet fast!
Prima Medical manufacture a range of high quality electrosurgical accessories, including the unique "Retract" specialist safety micro dissection needle and the "Supervac" adjustable smoke evacuation electrode.
ASep Healthcare will be showcasing the Tournistrip disposable tourniquet, as well taking the opportunity to launch their latest invention, the Tournistretch
Harvest Healthcare will be attending and taking the opportunity to meet with both existing and new distributors from around the region.
This will be a fabulous opportunity for these companies to introduce their products to a very broad range of distributors and end users, at a fraction of the cost of taking a full stand for themselves. Commenting on the decision to exhibit, Tony Coleman, Business Development Manager  said "This is something of a milestone for The Rodnight Partnership. Martin and I have been attending Arab Health every year for over thirty years, assisting manufacturers on their various stands, but this is the first time we have been able to take a group of clients to our own stand. Not only do these clients get the chance to showcase their products there, but they also get to benefit from the many years of experience and the network of contacts in the Gulf region brought by the Rodnight team."
Come and see us!  We will be in the Za'abeel Hall 1, stand H54 .
PREVIOUS POST
NEXT POST